September is Global Pulmonary Fibrosis Awareness Month. It seems that there is a day, week or month dedicated to pretty much anything you can name. The last time I talked about a month donated to advocacy, it was during the
National Donate Life Month
.
The cool thing about these dedicated months for advocacy, is that they do raise awareness. For many people, when you say October images of pink ribbons and breast cancer awareness comes to mind.
So why do we need to raise awareness of Pulmonary Fibrosis? Well... basically because so few people know about just how common this 'rare' disease really is. Take the form of Pulmonary Fibrosis (PF) that I had, Idiopathic Pulmonary Fibrosis (IPF), for example. Approximately 50,000 new people are diagnosed with, and as many as 40,000 die from, IPF each year. This is just in the United States. Pulmonary Fibrosis is a global issue, and research for treatments crosses national boundaries.
I often assume that most folks who find their way to my little corner of bloggersville are familiar with PF. For those of you who may never have heard of PF, this is from the
Pulmonary Fibrosis Foundation
:
PULMONARY FIBROSIS (PF) DESCRIBES A CONDITION in which the lung tissue becomes thickened, stiff, and scarred. The medical terminology used to describe this scar tissue is "fibrosis." The alveoli (air sacs) and the blood vessels within the lungs are responsible for delivering oxygen to the body, including the brain, heart, and other organs. All of the body's functions depend upon delivery of a steady supply of oxygen. As lung tissue becomes scarred and thicker, it is more difficult for the lungs to transfer oxygen into the bloodstream. As a result, the brain, heart, and other organs do not get the oxygen they need to function properly.
They way I usually describe IPF is that at some point in my past my lungs received some small damage. It could have been from smoke, fibers, chemical fumes, dust or pretty much anything. The initial injury really doesn't matter. What does matter is that my lungs did what lungs are supposed to do, they healed the damage and covered it with a scar. The only problem is that the scarring did not stop there. The scarring continued and took over more and more of my lungs. The scarring caused my lungs to thicken and shrink in my chest. Kind of like raisins. Kind of hard to breath through scar tissue.
Another good reason to raise awareness for Pulmonary Fibrosis is funding. With increased awareness comes increased funding. Research funds are a limited resource and it is hard to raise funds for an issue that no one knows about. There is no cure for IPF, the only current solution is a lung transplant. Now a lung transplant is a wonderful opportunity and is a life saver. But not many of us are able to receive new lungs, and a transplant does exchange one serious health condition with another. We do have two
FDA approved treatments for IPF
here in the United States.
Nintedanib (Ofev®): Nintedanib is an anti-fibrotic drug that is approved to treat IPF in the United States. In clinical trials, nintedanib has been shown to slow the decline in lung function in mild-to-moderate IPF. It is taken by mouth twice a day.
Pirfenidone (Esbriet®, Pirfenex®, Pirespa®): Pirfenidone is an anti-fibrotic and anti-inflammatory drug approved to treat IPF in the United States, EU, Canada, and Asia. In clinical trials, pirfenidone has been shown to slow progression of mild-to-moderate IPF. It is taken by mouth three times a day.
These treatments do help to slow the progress of the disease for a good portion of the people who take them, but slowing progression is not a cure. The medications also come with the potential of some pretty harsh side effects
There is
some exciting research
in the works, but even the most optimistic of us understand that these are small steps towards the goal of a cure. Much more really is needed. Remember, we will lose 40,000 people to IPF this year in the United States alone.
The
Pulmonary Fibrosis Foundation
(PFF) is helping to lead the charge in education and research here in the United States. The PFF is the go-to resource for PF patients and their caregivers, and is also a resource for the medical community.
The PFF is an important asset to the Pulmonary Fibrosis community and
really does deserve our financial support
.
The Pulm. Fibrosis Foundation is posting a Daily PF Fact on their social media feeds (@PFFORG on Twitter). They are pretty good, so I'll post them here as they pop up in my feed.
Fact #1 -
Fact #2 -
One form the ATS -
Fact #3 -
Fact #4 -
Fact #5 -
Fact #6 -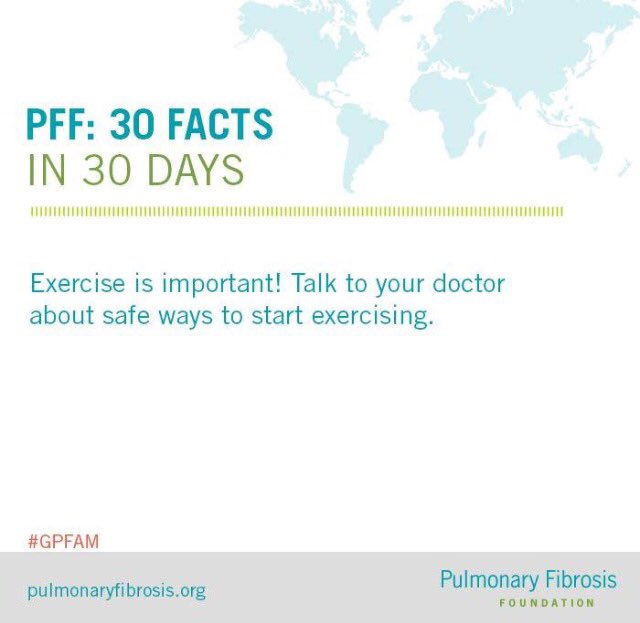 Are you on Twitter? If so, use #BreathlessIPF in a tweet and Boehringer Ingelheim will donate $1.00 to the Pulmonary Fibrosis Foundation.